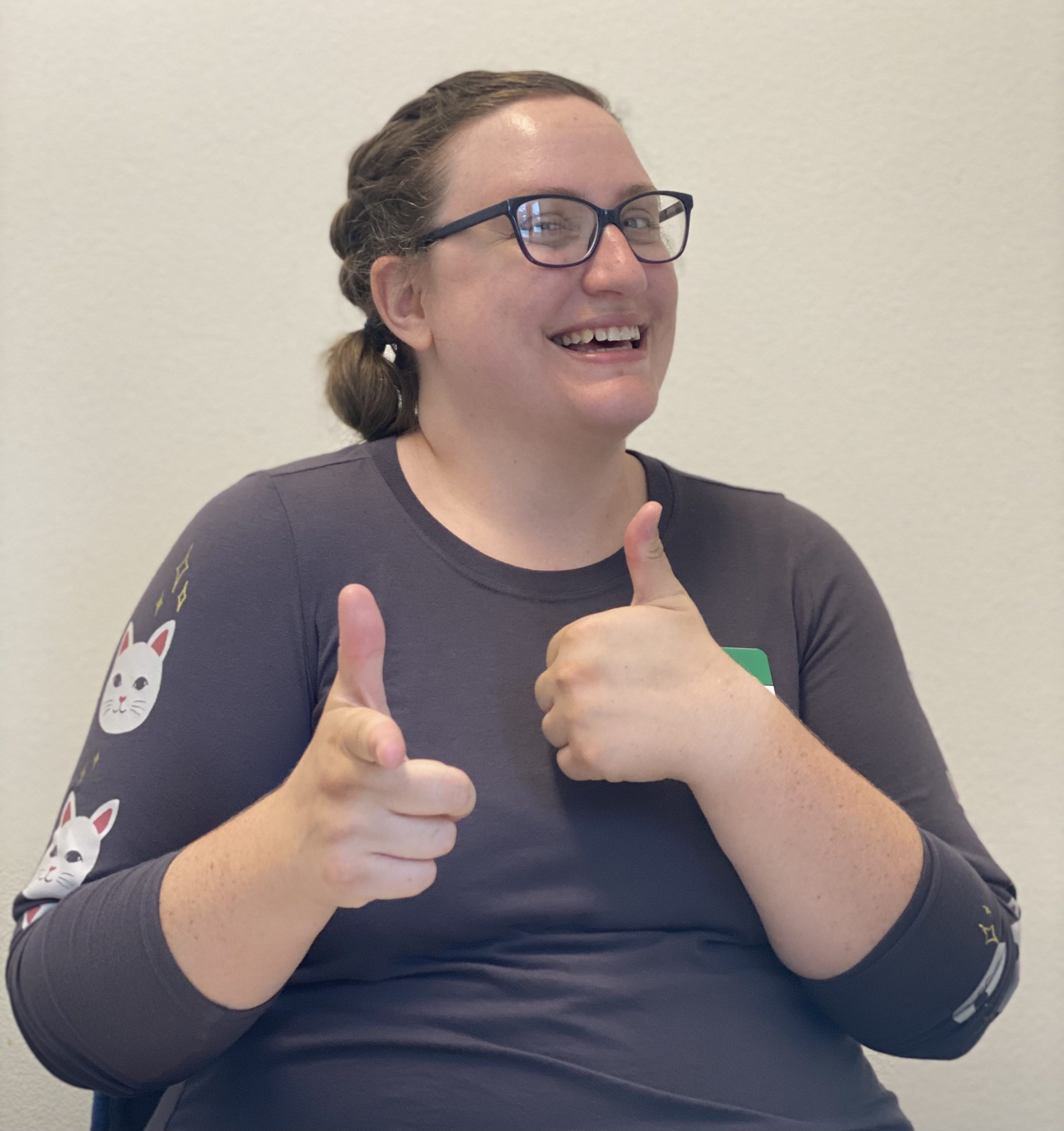 Erica Brown
(they/them)
Part of the team since 2021.
As the Library Director I do all of the little things that keeps the library running and supporting staff in providing great services and programs to the community. I am also the library's public face, and love talking to community members, organizations, and businesses about what they do and how the library can partner with them to continue serving our community. My door is always open, so come say hi to me at the library or as I'm out and about!
Graphic novels, manga, anime, scifi/fantasy novels and tv shows, plants and gardening, maker culture, hiking, my dog, and what show you're currently binge watching.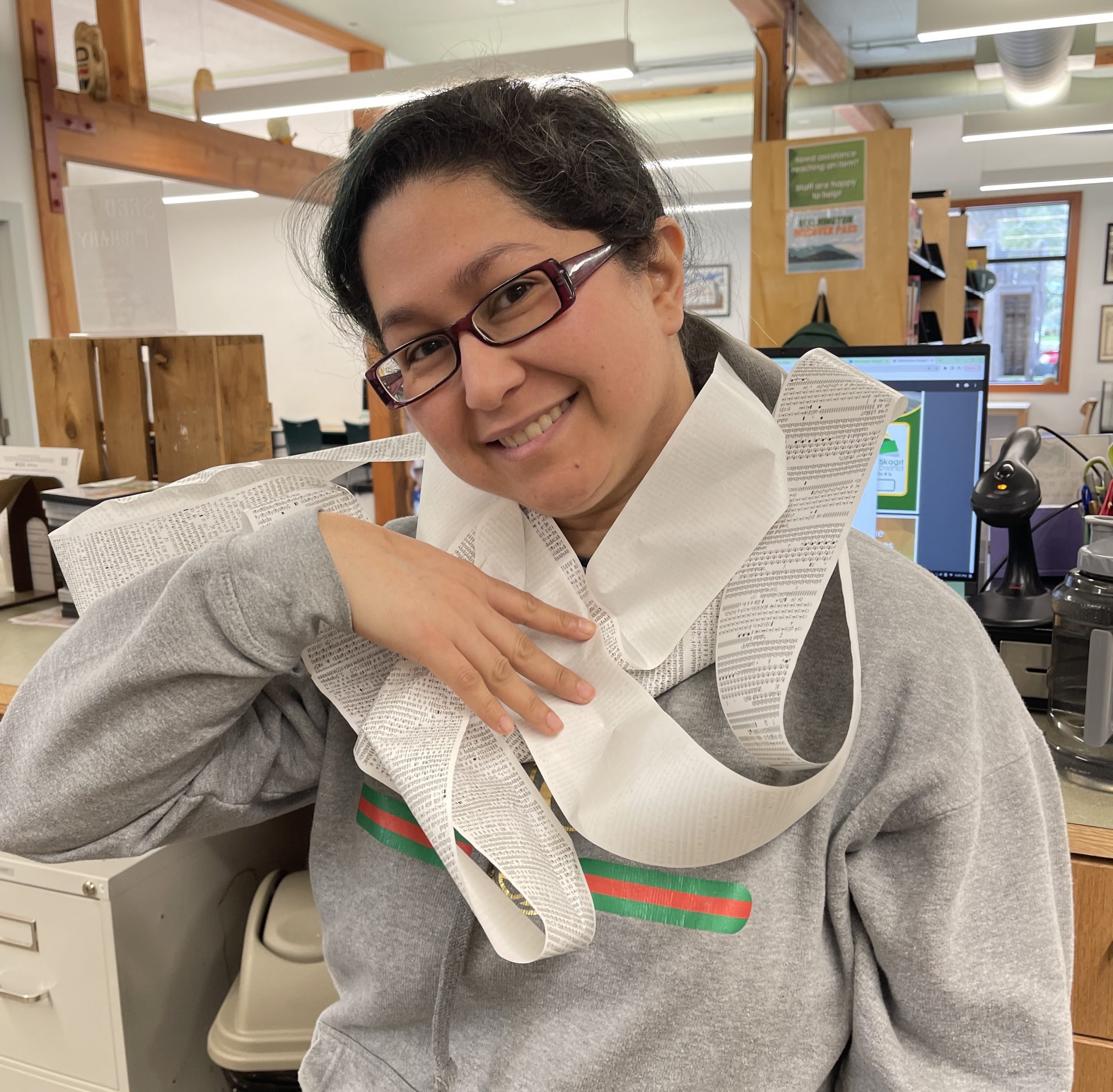 Loly
Part of the team since 2018.
Library Technology Specialist
I am the library's IT department! I'm in charge of making sure all of our technology is working properly, that the internet is functioning, and helping staff keep tech things running smoothly. I also do a lot of administrative things around the library as well as circulation! I'm the queen of Excel spreadsheets and statistics!
You can talk with me about any topic, from Philosophy to Technology, and if you like, I can share my vegan recipes! Also, talk to me about the British TV show, the IT Crowd!
Part of the team since 2018.
Marketing Specialist and Teen Librarian
I'm a social media nerd, so you'll likely see me wandering around the building with my phone taking photos of everything or getting weird while filming a TikTok. Odds are I made that graphic, bookmark, poster, or video. I definitely sent that email. I hope you liked it! When I'm not working on marketing I'm probably getting ready for our next Teen Advisory Board meeting since I'm also the teen librarian! I'm here to help design programs for teens, take care of the teen collection and space, and hang out with teens (and pre-teens!) and answer questions, recommend books, games, or movies, or just be a safe person to talk to! 
Dogs, Twin Peaks, Supernatural (TV show), sci-fi and horror films/books, comic books (#TeamMarvel), dogs, popular music, media studies, film and television/video production, remix/fan/internet cultures, technology, dogs, video games, photography, orcas, the San Juan Islands, writing, cosmic horror, fandom, dogs, sign languages and Deaf Culture, accessible technology, M*A*S*H, planners/bullet journaling, needle felting, crafting, pigs, goats and cows, farming and homesteading, succulents and cacti, anything Sp00ky, and dogs.
Contact:
Email: chazlyn@upperskagitlibrary.org
Phone: 360. 209. 4001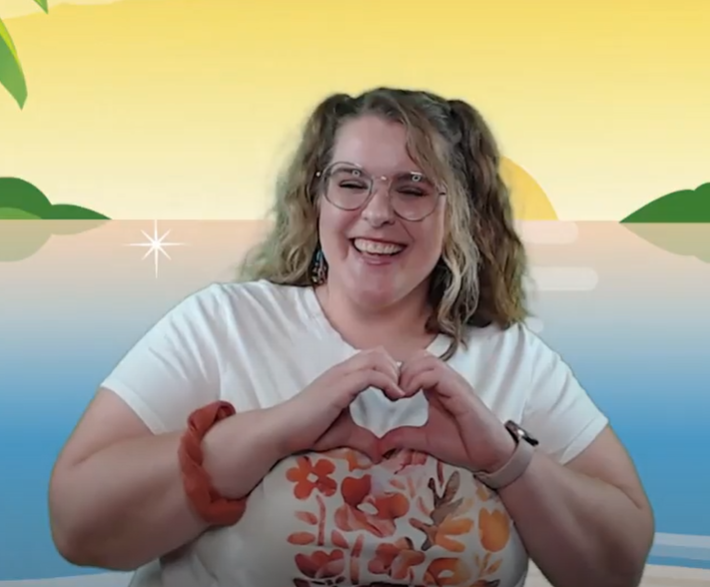 Emily
Part of the team since 2021.
I am in charge of the children's collection and children's programming at the library. I love reader's advisory – especially for kids! I am excited about making the library accessible and fun and I am always happy to listen to any ideas that you in our community have. I am passionate about learning and I love sharing that passion with others through whatever medium! Kids learn best when they are playing and having fun, and that is what I hope to bring to the children's library in the Upper Skagit.
Astronomy, hiking, biking, gardening, sci-fi and fantasy, peaceful parenting, health and wellness, Pokémon and Pokémon Go, cooking and baking, Dungeons and Dragons, Avatar: The Last Airbender, crafting, sewing, geocaching, disc golf, Marvel comics and MCU, The Office, IT Crowd, getting lost in Target, stickers, making mistakes, music, dancing, DIY, Muppets and puppeteering, Zelda, video games, circus arts, horses, yoga, exploring, puzzles, pretty much anything!
Kids can talk to me about…
Books, Minecraft, comics, unicorns, mermaids, duckies, trucks, fire engines, plants, your favorite color, your favorite animal, what school is like, how many brothers and sisters you have, how old you are, how tall you are, the universe, anything! Ask why things work and how things work. I love questions, and if I don't know the answer, I'll help you look for it!
Part of the team since 2021.
Public Service Specialist
I am the first person you'll usually see when you come into the library, since I'm usually the person at the front desk! I help sign you up for library cards, check materials in and out for you,  help you find things, print things, or email things – every thing that happens at the front desk is my responsibility! I'm also responsible for  helping to maintain the collection and process new materials. I also get to help out with programs occasionally! My favorite part of my job is chatting with patrons. I am happy to help you find materials and answer any questions you may have. If I don't know the answer, I will do my best to direct you to someone who will. I graduated from Western Washington University in 2021 and I have lived in Skagit County for most of my life.
Western movies and books, poetry, Christian literature, animals, music, recovery, parenting, baking, crafts, ATVs, camping, and traveling.
Part of the team since 2020.
The Collection Specialist is the person who is mainly in charge of taking care of our materials! I help get materials ready for checkout, repair materials when they're damaged, and weed or get rid of materials that no longer have a place at the library.  I also help keep the library organized by making sure that office supplies are organized and ordered when needed, that the plants get watered, that program supplies are organized, and more! I also help the Public Service Specialist by providing circulation services like registering new patrons for library cards, checking materials in and out, reshelving books and keeping the stacks orderly, helping with reader advisory, and other reference duties. I'm also in charge of coming up with and putting together children's crafts and helping plan programming! 
You can talk with me about any topic, but I really love Disney films and cats!