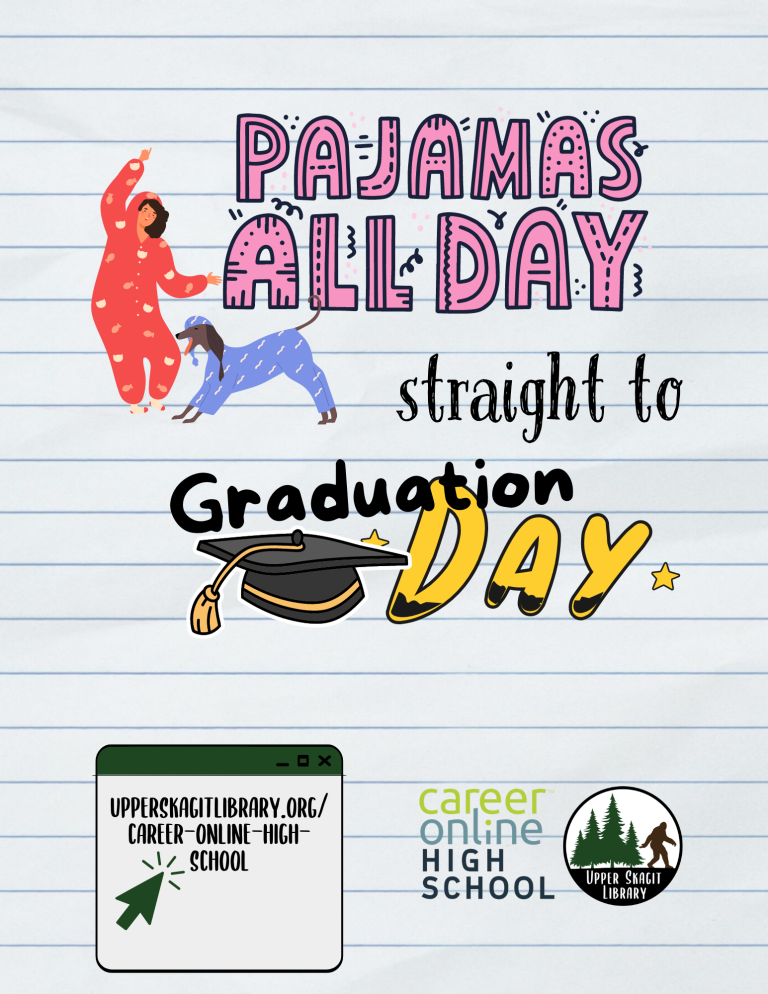 Are you 19 or older?
Do you live in the Upper Skagit Library Service District?
Do you have a library account in good standing or are willing to get one?
Do you want to get an accredited high school diploma?
Applying for the program is simple and can be done via website either at home or at the library. Applicants must choose one of the offered career learning paths, enroll in a prerequisite course, and complete it within two weeks. After that, students will be contacted with information regarding the next steps, which, if accepted into the program, include being matched with a mentor and arranging access to technology needed to complete the course if you don't already have access to it.
The program is available in English as well as several other languages. Once the course is completed students will have their high school diploma as well as a certificate in their career path chosen at the beginning of the program, courtesy of Cognia.
Courses are 100% online
Graduates complete the course in an average of 12-14 months
Students spend 8-10 hours a week on their courses
You can transfer previous credits from high schools, GED programs, or HiSET programs
Students receive support from an academic coach, certified instructors, career guidance specialists, and library staff to ensure you make it to graduation day. Whether it's tech problems or coursework needs – we're here to help!
The program is accredited through Cognia/NCA/SACS/NWAC
In addition to core requirements such as English, Math, Social Studies, Health, and Science, the program also includes specialized career paths to jump start your journey after graduation which include careers in childcare, commercial driving, food and hospitality, hospitality and leisure, home care, manufacturing, office management, retail/customer service, and security services.