Our friends at WSDOT want to make sure that those without internet access can still participate in the SR 20 Skagit River O'Brian Reach Floodplain Feasibility Study community workshop on June 1st, so they reached out to us to help make that happen! 
If you want to participate but can't or don't want to navigate the video conference on your own, please register for the event and then join us in the library where we'll attend the meeting together with the help of reps from WSDOT! 
Call 360-706-7488 or follow the link to RSVP!
NOTE: You can still RSVP for the library meeting even though we're past the date on the flyer – please join us!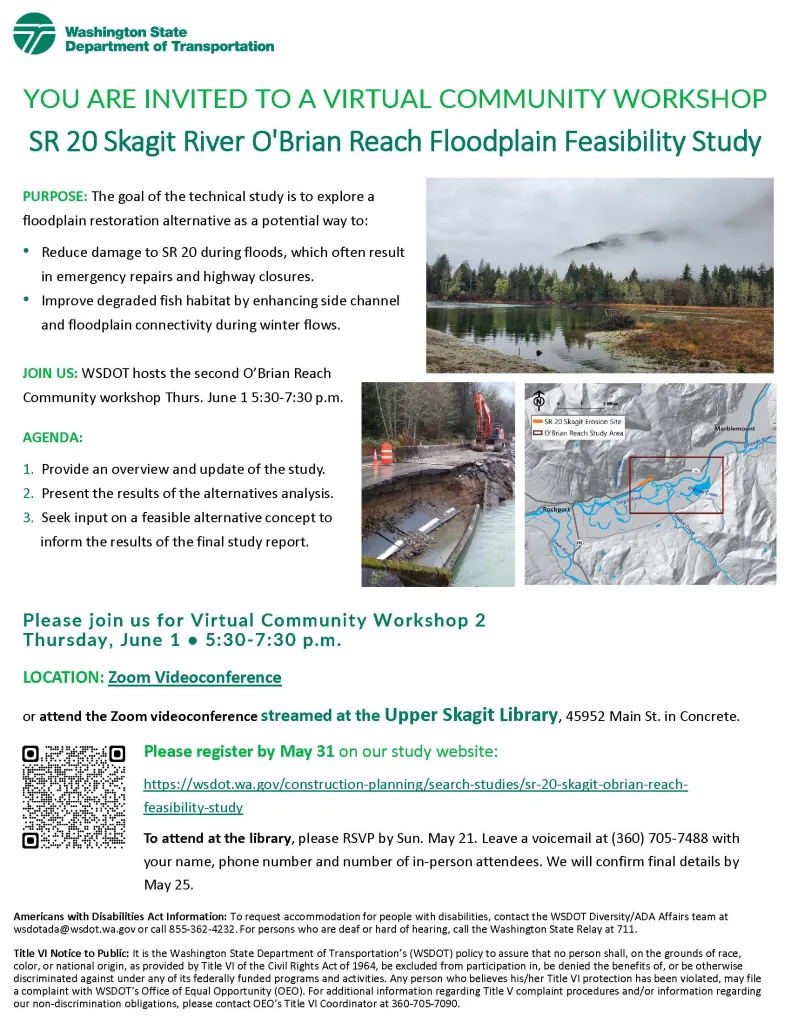 YOU ARE INVITED TO A VIRTUAL COMMUNITY WORKSHOP
SR 20 Skagit River O'Brian Reach Floodplain Feasibility Study
PURPOSE: The goal of the technical study is to explore a floodplain restoration alternative as a potential way to:
•Reduce damage to SR 20 during floods, which often result in emergency repairs and highway closures.
•Improve degraded fish habitat by enhancing side channel and floodplain connectivity during winter flows.
JOIN US: WSDOT hosts the second O'Brian Reach Community workshop Thurs. June 1 5:30-7:30 p.m.
AGENDA:
Provide an overview and update of the study.

Present the results of the alternatives analysis.

Seek input on a feasible alternative concept to




inform the results of the final study report.
Please join us for Virtual Community Workshop 2 Thursday, June 1 • 5:30-7:30 p.m.
LOCATION: Zoom Videoconference
or attend the Zoom videoconference streamed at the Upper Skagit Library, 45952 Main St. in Concrete.
Please register by May 31 on our study website:
https://wsdot.wa.gov/construction-planning/search-studies/sr-20-skagit-obrian-reach-feasibility-study
To attend at the library, please RSVP by Sun. May 21. Leave a voicemail at (360) 705-7488 with your name, phone number and number of in-person attendees. We will confirm final details by May 25.
Americans with Disabilities Act Information: To request accommodation for people with disabilities, contact the WSDOT Diversity/ADA Affairs team at [email protected] or call 855-362-4232. For persons who are deaf or hard of hearing, call the Washington State Relay at 711.
Title VI Notice to Public: It is the Washington State Department of Transportation's (WSDOT) policy to assure that no person shall, on the grounds of race, color, or national origin, as provided by Title VI of the Civil Rights Act of 1964, be excluded from participation in, be denied the benefits of, or be otherwise discriminated against under any of its federally funded programs and activities. Any person who believes his/her Title VI protection has been violated, may file a complaint with WSDOT's Office of Equal Opportunity (OEO). For additional information regarding Title V complaint procedure sand/or information regarding our non-discrimination obligations, please contact OEO's Title VI Coordinator at 360-705-7090.