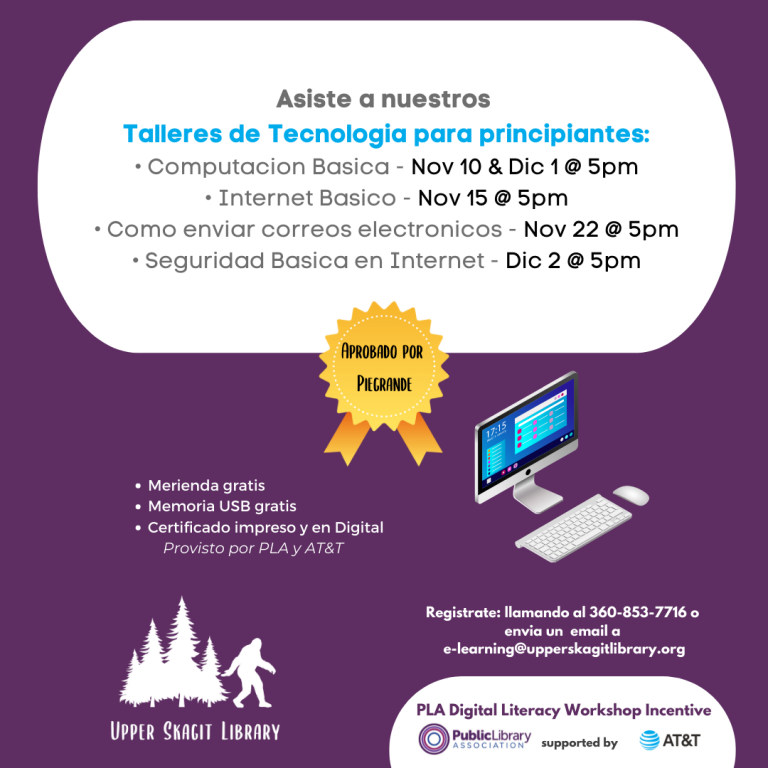 Beginner Technology Workshop Series
Beginner Technology Workshop series:
*Nov. 10th. (Computer Basics)
*Nov. 15th (Internet Basics)
*Nov. 22nd (Email Basics)
*Dec. 1st (Computer Basics)
*Dec. 2nd (Cybersecurity Basics)
All dates from 5-6pm.
If you've been looking for a place to learn about computer and technology basics from people who will be patient and without the expectation of prior knowledge the time is now and the place is here!
Funded by the Public Library Association Digital Literacy Workshop Incentive and supported by AT&T, this series of workshops will cover topics from how to use a computer or smartphone, how to set up and use an email account, how to use the internet safely and efficiently, and how to stay safe when using technology and the internet. Participants will receive paper and digital certificates of completion, a free flashdrive (digital storage device), and snacks will be provided during the workshop.
Registration is required: please call the library at 350. 853. 7716 or email [email protected] to register.
**********************************
Talleres de tecnología para principiantes:
*Nov. 10 (Computación básica)
*Nov. 15 (Conceptos básicos de Internet)
*Nov. 22 (Aspectos básicos del correo electrónico)
*Dic. 1 ( Computación básica )
*Dic. 2 (Conceptos básicos de ciberseguridad)
Todas las fechas de 5-6pm.
Si ha estado buscando un lugar para aprender sobre conceptos básicos de informática y tecnología de personas que serán pacientes y sin la expectativa de conocimientos previos, ¡ahora es el momento y el lugar es aquí!
Financiado por el Incentivo del Taller de Alfabetización Digital de la Asociación de Bibliotecas Públicas y respaldado por AT&T, esta serie de talleres cubrirá temas desde cómo usar una computadora o teléfono inteligente, cómo configurar y usar una cuenta de correo electrónico, cómo usar Internet de manera segura y eficiente, y cómo mantenerse seguro al usar la tecnología e Internet. Los participantes recibirán certificados de finalización en papel y digital, una memoria flash gratuita (dispositivo de almacenamiento digital) y refrigerios durante el taller.
Es necesario registrarse: llame a la biblioteca al 350. 853. 7716 o envíe un correo electrónico a [email protected] para registrarse.