In the Picture: Mike Buschman, Sara Jones, Chazlyn Lovely, Loly Gomez, and Cindy Boyden
On a day that will be etched in our memories, we had the honor of welcoming distinguished visitors to Upper Skagit Library. Cindy Boyden, Senior Program Officer from the Institute of Museum and Library Services (IMLS), joined us, along with Sara Jones, the State Librarian, Claire Imamura, Grants and Contracts Coordinator, and Mike Buschman, Library Development Manager and LSTA Coordinator. This special visit provided us with the opportunity to showcase the services our library offers and how our collaboration with Washington State Library (WSL) and the support of IMLS are propelling our technological transformation.
Sara Jones, State Librarian, expressed her impression of our library, stating, "The atmosphere at Upper Skagit Library is truly welcoming and hospitable." This observation underscores the warmth and hospitality we extend to all who walk through our doors.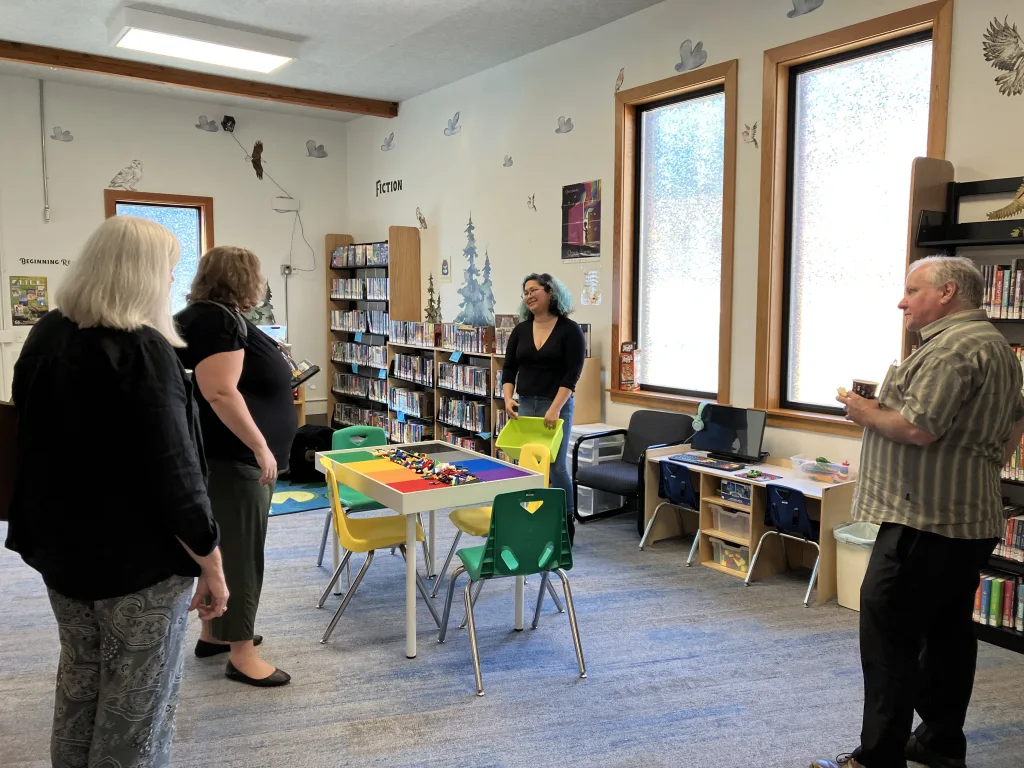 In the Picture: Sara Jones, Cindy Boyden, Loly Gomez, and Mike Buschman
During our time together, we had a wonderful conversation with Cindy Boyden about our shared passion for improving the lives of our community. We extend a special thank you to Claire and Mike for capturing the day's special moments with their photographs and for their continuous support and collaboration.
We would also like to express our deep gratitude to Cody Hanson, IT Strategist, who has worked tirelessly alongside us to implement all these improvements. Cody's dedication and expertise have been instrumental in making our technological advancements a reality. It is through the combined efforts of individuals like Cody that we are able to enhance our library's services and better serve our community.
It is our hope that this visit marks the beginning of future collaborative efforts to enhance the services of our library, as we continue our journey to serve our community better.
IMLS and LibTech: Transforming Technology in Small Libraries
The Institute of Museum and Library Services (IMLS) has been an essential source of funding for the LibTech initiative, and this visit was an invaluable occasion to demonstrate how these funds are shaping our library and, consequently, our community.
The Connectivity Revolution
One of the most exciting aspects of this collaboration is the significant improvement in our connectivity. Thanks to the investment in technological infrastructure supported by IMLS, we are elevating our broadband capacity to astonishing levels. We are transitioning from a connection speed of approximately 100 megabits per second (mb/s) to an astounding 2 gigabits per second (Gb/s).
This enhancement in connectivity not only means a faster and smoother online experience for our users but also enables us to offer new high-quality digital services and resources. From uninterrupted video streaming to seamless online collaboration, this technological upgrade will revolutionize how our community interacts with the library.
Our Ongoing Commitment
At Upper Skagit Library, we have always maintained an unwavering commitment to our community. Now, thanks to our collaboration with WSL and the generous support of IMLS, we are in a stronger position than ever to fulfill that commitment. Our mission to provide access to information and foster education will be greatly enhanced by this new technological era.
We are excited about the future as we continue to improve our operations and provide high-quality services to all library users. Stay tuned for more updates on how this collaboration is transforming Upper Skagit Library and enriching the lives of our community.
The Magic of Collaboration: WSL & IMLS at Upper Skagit Library is in full swing, and we are grateful for your participation in this exciting journey with us.